Ophiuchus
Ophiuchus (Oph, serpent-bearer) is a large constellation located around the celestial equator. Its name is from the Greek Ὀφιοῦχος "serpent-bearer", and it is commonly represented as a man grasping the snake that is represented by the constellation Serpens. Ophiuchus was one of the 48 constellations listed by the 2nd-century astronomer Ptolemy, and it remains one of the 88 modern constellations. It was formerly referred to as Serpentarius and Anguitenens.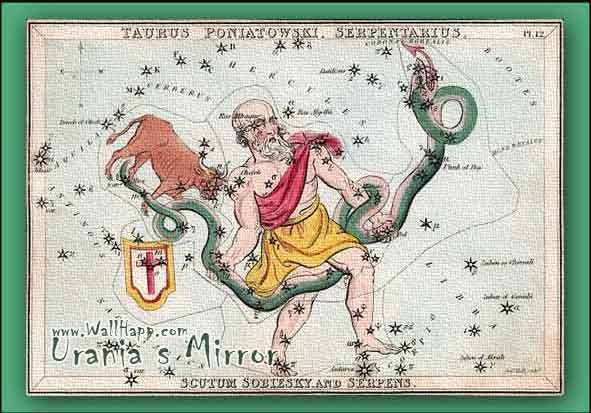 History and mythology

There is no evidence of the constellation preceding the classical era (Classical Greece was a 200 year period in Greek culture lasting from the 5th through 4th centuries BC), and in Babylonian astronomy, a "Sitting Gods" constellation seems to have been located in the general area of Ophiuchus. However, Gavin White proposes that Ophiuchus may in fact be remotely descended from this Babylonian constellation, representing Nirah, a serpent-god who was sometimes depicted with his upper half human but with serpents for legs.
The earliest mention of the constellation is in Aratus was a Greek didactic poet, informed by the lost catalogue of Eudoxus of Cnidus (4th century BC):
To the Phantom's back the Crown is near, but by his head mark near at hand the head of Ophiuchus, and then from it you can trace the starlit Ophiuchus himself: so brightly set beneath his head appear his gleaming shoulders. They would be clear to mark even at the midmonth moon, but his hands are not at all so bright; for faint runs the gleam of stars along on this side and on that. Yet they too can be seen, for they are not feeble. Both firmly clutch the Serpent, which encircles the waist of Ophiuchus, but he, steadfast with both his feet well set, tramples a huge monster, even the Scorpion, standing upright on his eye and breast. Now the Serpent is wreathed about his two hands – a little above his right hand, but in many folds high above his left.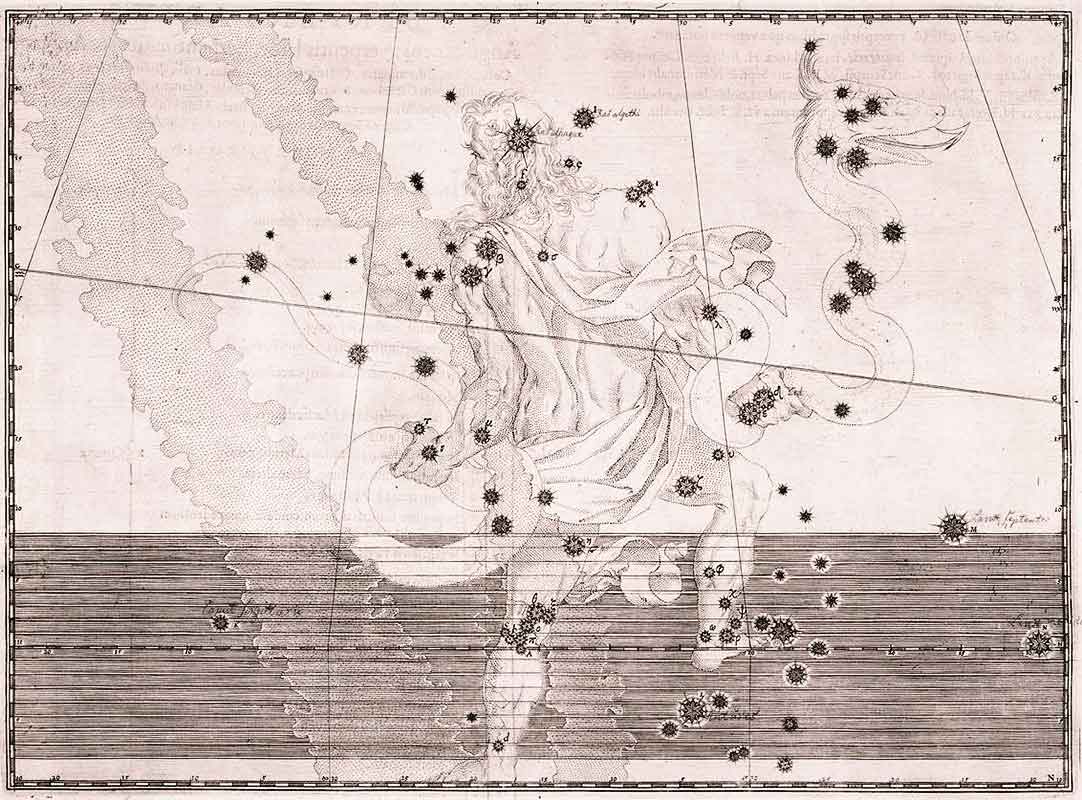 To the ancient Greeks, the constellation represented the god Apollo struggling with a huge snake that guarded the Oracle of Delphi. Later myths identified Ophiuchus with Laocoön, the Trojan priest of Poseidon, who warned his fellow Trojans about the Trojan Horse and was later slain by a pair of sea serpents sent by the gods to punish him.
According to Roman era mythography, the figure represents the healer Asclepius, who learned the secrets of keeping death at bay after observing one serpent bringing another healing herbs. To prevent the entire human race from becoming immortal under Asclepius' care, Jupiter killed him with a bolt of lightning, but later placed his image in the heavens to honor his good works.
In medieval Islamic astronomy (Azophi's Uranometry, 10th century), the constellation was known as Al-Ḥawwaʾ "the snake-charmer".
Aratus describes Ophiuchus as trampling on Scorpio with his feet. This is depicted in Renaissance to Early Modern star charts, beginning with Albrecht Dürer in 1515; in some depictions (such as that of Johannes Kepler, 1604), Scorpio also seems to threaten to sting Serpentarius in the foot. This is consistent with Azophi, who already included ψ Oph and ω Oph as the snake-charmer's "left foot", and θ Oph and ο Oph as his "right foot", making Ophiuchus a zodiacal constellation at least as regards his feet. This arrangement has been taken as symbolic in later literature, and placed in relation to the words spoken by God to the serpent in the Garden of Eden (Genesis 3:15)
Bordering constellations
Hercules | Serpens | Libra | Scorpius | Sagittarius | Aquila
Wikipedia
---