Leo
Leo (lion) is one of the constellations of the zodiac, lying between Cancer to the west and Virgo to the east. Its name is Latin for lion, and to the ancient Greeks represented the Nemean Lion killed by the mythical Greek hero Heracles (known to the ancient Romans as Hercules) as one of his twelve labors (The Nemean lion was a vicious monster in Greek mythology that lived at Nemea. It could not be killed with mortals' weapons because its golden fur was impervious to attack. Its claws were sharper than mortals' swords and could cut through any armour).
One of the 48 constellations described by the 2nd century astronomer Ptolemy, Leo remains one of the 88 modern constellations today, and one of the most easily recognizable due to its many bright stars and a distinctive shape that is reminiscent of the crouching lion it depicts. The lion's mane and shoulders also form an asterism known as "the Sickle," which to modern observers may resemble a backwards "question mark."
Leo was one of the earliest recognized constellations, with archaeological evidence that the Mesopotamians had a similar constellation as early as 4000 BCE. The Persians called Leo Ser or Shir; the Turks, Artan; the Syrians, Aryo; the Jews, Arye; the Indians, Simha, all meaning "lion". Early Hindu astronomers knew it as Ashlesha(nakshtra-sub constellation) and as Simha, the Tamil Simham. Some mythologists believe that in Sumeria, Leo represented the monster Khumbaba, who was killed by Gilgamesh (Gilgamesh was a king of Uruk, Mesopotamia, who lived sometime between 2800 and 2500 BC). The Roman poet Ovid called it Herculeus Leo and Violentus Leo. Bacchi Sidus (star of Bacchus) was another of its titles, the god Bacchus always being identified with this animal. However, Manilius called it Jovis et Junonis Sidus (Star of Jupiter and Juno).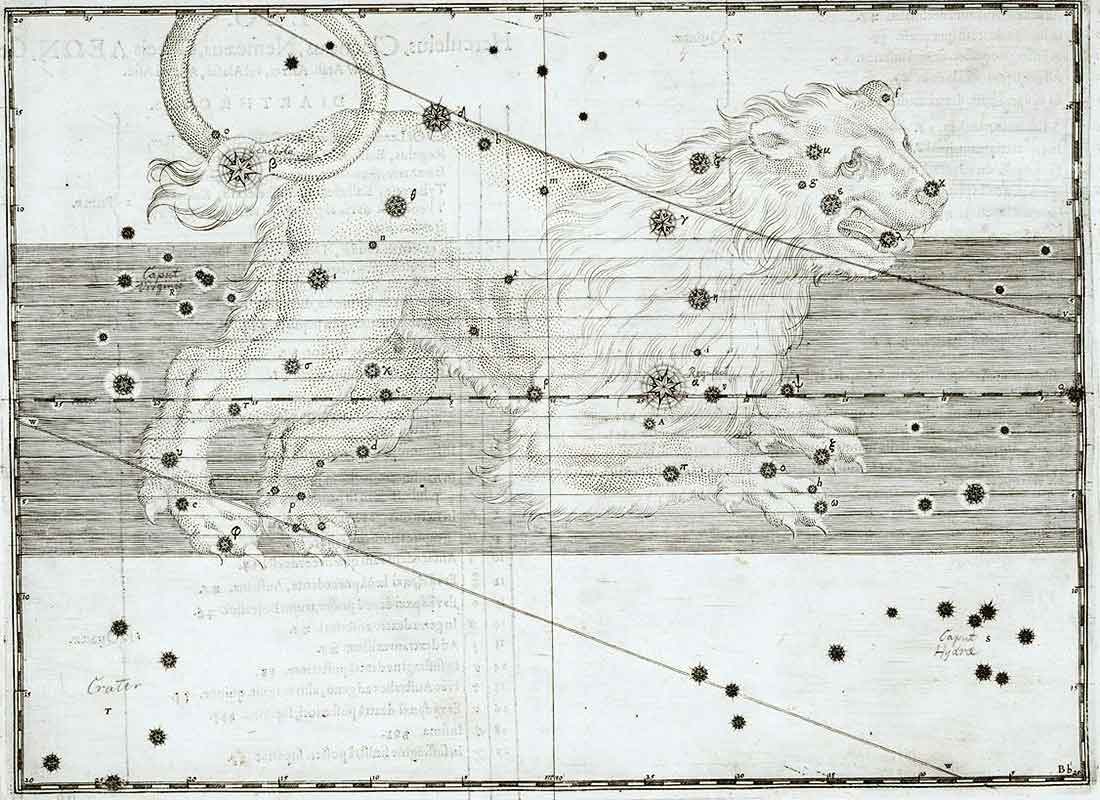 Leo (constellation), Johann Bayer, Uranometria Omnium Asterismorum
In Greek mythology, Leo was identified as the Nemean Lion which was killed by Heracles (Hercules to the Romans) during the first of his twelve labours. The Nemean Lion would take women as hostages to its lair in a cave, luring warriors from nearby towns to save the damsel in distress, to their misfortune. The Lion was impervious to any weaponry; thus, the warriors' clubs, swords, and spears were rendered useless against it. Realizing that he must defeat the Lion with his bare hands, Hercules slipped into the Lion's cave and engaged it at close quarters. When the Lion pounced, Hercules caught it in midair, one hand grasping the Lion's forelegs and the other its hind legs, and bent it backwards, breaking its back and freeing the trapped maidens. Zeus commemorated this labor by placing the Lion in the sky.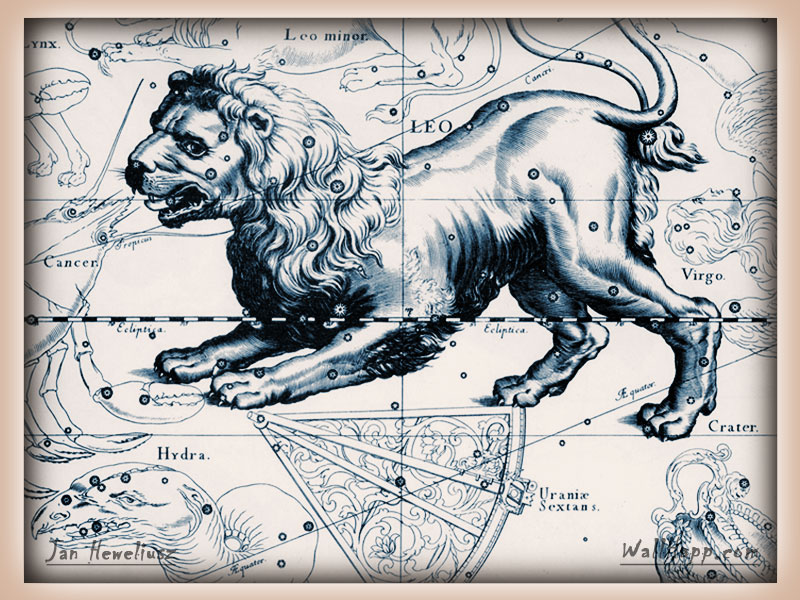 Leo (constellation), Firmamentum Sobiescianum sive Uranographia by the astronomer Johannes Hevelius
Bordering constellations
Ursa Major | Leo Minor | Lynx | Cancer | Hydra | Sextans | Crater | Virgo | Coma Berenices
Wikipedia
---